Today www.rannaghaar.com is presenting you the recipe of Tandoori Chicken. This is one of the famous and popular chicken recipes in the whole world. 
Serving: 4 People
Prep Time: 15 Minutes (Chicken marination needs over night or 7-8 hours)
Cook Time: 45 Minutes.
Total Time: 1 Hour.
Ingredients
Chicken leg 4 pieces

Ginger paste 1 tsp

Garlic paste 1 tsp

Cashew nut paste 1 tbsp

Plain yogurt 1 ½ tbsp

Onion paste ½ tbsp

Tomato sauce 1 tsp

Worcestershire sauce 2 tsp

Lemon juice 2 tsp

Salt to taste

Food color (Optional)

Chili powder 1 tsp

Roasted cumin powder ½ tsp

Garam masala powder ¼ tsp

Black pepper powder ¼ tsp

Ground nutmeg 1/8 tsp

Ground mace 1/8 tsp

Black salt ½ tsp

Vegetable oil 2 tbsp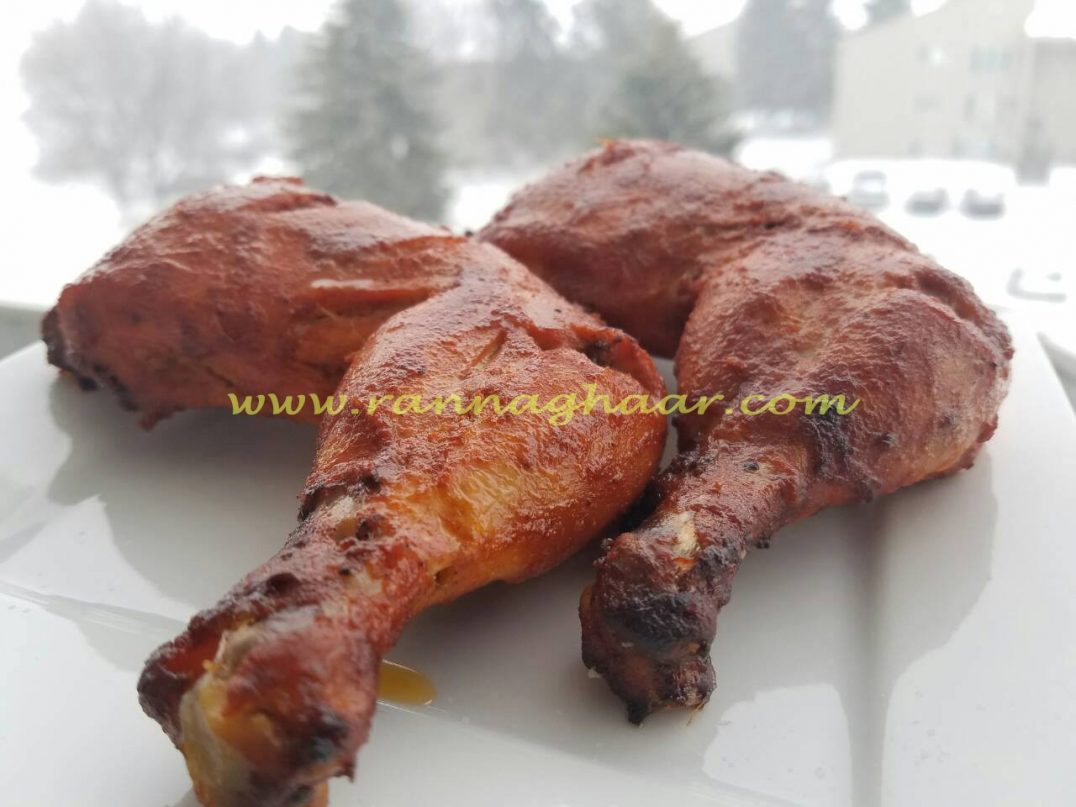 Instructions
Wash chicken leg thoroughly and cut deep slashes 3 to 4 places on the chicken legs.

Now it is time to marinate the chicken. Take a bowl and mix all the above mentioned ingredients with the chicken very well and keep them in refrigerator overnight or maximum 7-8 hours.

When marination time is over, preheat the oven on 3500 F or 1800 C for 5 minutes.

Now brush oil nicely on your baking tray and place all chicken legs and insert the tray into the preheated oven.

Bake the chicken for 25 minutes and then turn all the chickens upside down. Brush oil on the chicken again and continue baking for another 20 minutes.

Before taking out the chicken from the oven, set the oven to broil mode for 2 minutes so that the chicken gets burnt texture. When broiling is over take out the chicken from the oven and wrap them in foil wrapper for 15 minutes.

Your tandoori chicken is ready to serve. Enjoy…!